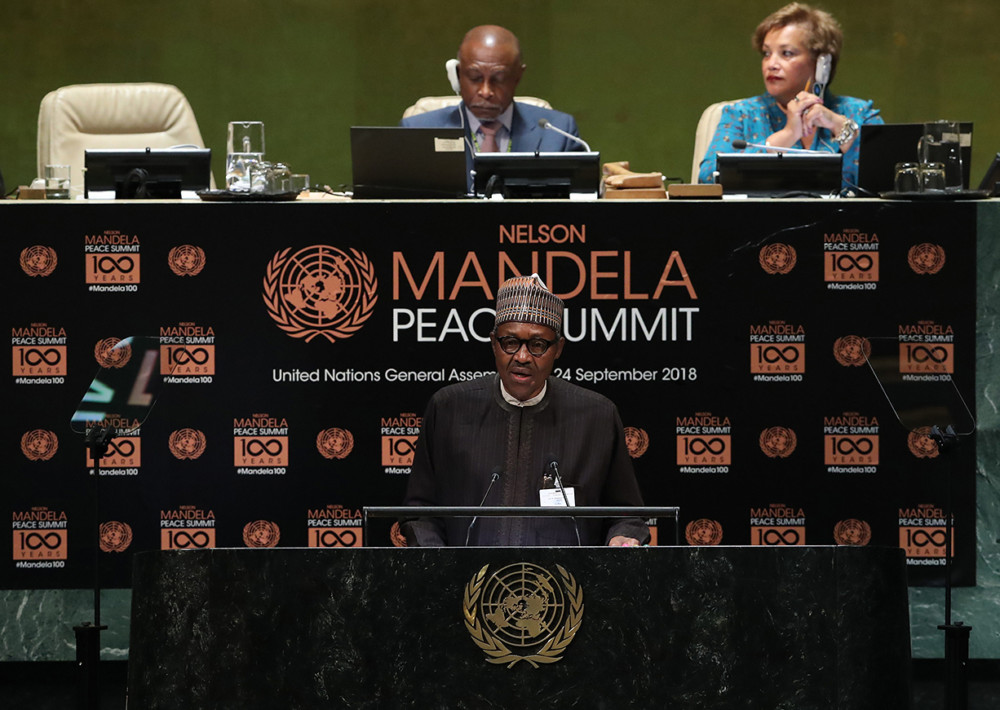 President Muhammadu Buhari on Monday hailed anti-apartheid proponent and former South African president Nelson Mandela in New York on the sidelines of the 73rd Session of the United Nations General Assembly.
According to NAN, Femi Adesina, Buhari's media aide made this known in a statement on Tuesday.
Buhari celebrated the values embodied by the late Nobel Peace Prize winner during the High-Level Meeting on Global Peace in honour of the Centenary of Mandela's birth.
Adesina said the president described Mandela as "a man whose lifetime symbolised uncommon humility, compassion, courage and forgiveness."
According to the President, the centenary celebration provides an avenue to reflect on the legacies of Mandela and his unwavering advocacy for human rights, social justice and peace.
"It also affords us the rare privilege to rededicate ourselves to the service of humanity by championing democracy, conflict resolution, disarmament, mutual respect, reconciliation, gender equality and the fight against poverty," he said.

The world will definitely "draw inspiration from the life of Nelson Mandela," Buhari was quoted as saying.

"As we herald the Nelson Mandela Decade of Peace, Nigeria calls on all states to recognise that the United Nations is built on pillars of peace and security, development and human rights, which are the foundations for our collective well-being," he added.

"As Mandela passes into history, we stand with him in his aspirations for a better world," Buhari said, adding that "it is our duty to live up to his indelible legacy by collectively holding ourselves accountable to the values and principles of this Declaration by striving for a just, peaceful, prosperous, democratic, fair and inclusive world."
Photo Credit: NAN Photo