A 19-year-old teenager with a bright future after she passed her preliminary exams with 4 distinctions and was due to study medicine collapsed and died in Pretoria while her friends looked on and cheered thinking she was doing the viral #DeadPose challenge.
Tshidi Ngwenya, who had earlier posted a series of pictures performing the challenge, had decided to step it up a notch and perform a daring pose while her friends cheered and took pictures. The manoeuvre did not go as planned as she fell to the ground and collapsed. Her friends did not pick up that she was in distress and continued to cheer and take pictures.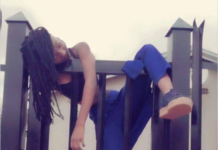 After a few minutes of cheering and taking pictures, the friends realised their dead poser was not moving and checked on her and noticed she had choked after swallowing her tongue. Friends tried desperately to revive her as they waited for paramedics to arrive. Upon arrival of an ambulance, she was pronounced dead.
The girl's parents said she had a history of seizures and might have suffered one while performing the #deadpose.  South Africans have taken to Social Media to pose as if they're dead for the camera. Search for the hashtag online and you will find endless photographs mostly youngsters pretending to be dead. Some of the photographs are very graphic in nature and have angered users online.
An Ambulance spokesman said: "Unfortunately, despite the best efforts of the ambulance crew, nothing could be done to save her. If her friends had noticed early, she would be alive now".
Featured images are for illustrations