London Bridge terror attack – Here's all you need to know. Seven people were killed in central London when three attackers drove a van into pedestrians on London Bridge and launched a knife attack in Borough Market.
Police have declared it a terrorist incident. Here is what we know so far.
What happened?
Police said that the attack began at 21:58 BST on Saturday when a van drove onto London Bridge from the north side.
It mounted the pavement and hit several people, before crashing near the Barrowboy and Banker pub, at the southern end of the bridge.
Three men got out, armed with knives, and ran the short distance to Borough Market where they stabbed several people.
Armed police and ambulances were called at 22:08 BST.
Eyewitnesses spoke of attackers targeting people in pubs and restaurants. Some people tried to fight them off by throwing chairs and glasses.
As the area was cordoned off, police shouted at members of the public to run or hide.
One witness, Gerard Vowls, told the BBC: "They were running up shouting, 'This is for Allah.' They stabbed this girl maybe 10 times, 15 times."
London Ambulance Service took more than 100 emergency calls about the attack.
The first of the seven dead to be named was Chrissy Archibald, a Canadian who was originally from British Columbia.
French Foreign Minister Jean-Yves Le Drian has said that a Frenchman was also killed, with another seven French nationals injured. Four are in a critical condition.
A casualty line has been set up for members of the public who are concerned about friends and relatives.
People have been told they can ring 0800 096 1233 or 020 7158 0197 but only "in a genuine emergency".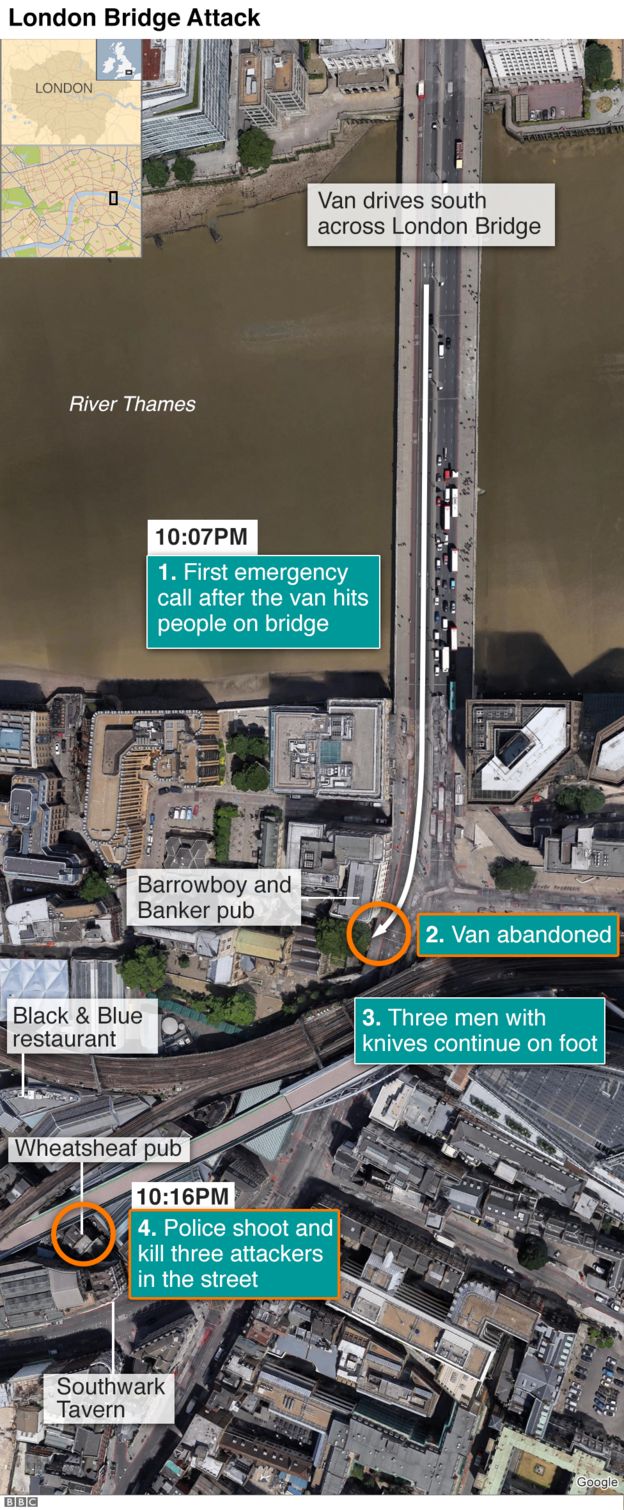 Information has begun to emerge about some of the 48 injured.
Five London hospitals are continuing to treat 36 of the victims; 21 are said to be in a critical condition.
Four police officers were hurt. One, from British Transport Police, was seriously injured when he confronted the attackers outside London Bridge station, armed only with his baton.
He suffered head, face and leg wounds, but his life is not in danger.
An off-duty Metropolitan Police officer was also seriously injured, having rugby-tackled one of the terrorists. Police said his injuries are not life-threatening.
Daniel O'Neill, 23, is among the injured recovering in hospital.
His mother, Elizabeth O'Neill, said he had a seven-inch scar running from his belly to his back after being stabbed by a man saying "this is for my family, this is for Islam".
The Australian prime minister confirmed four of the country's nationals had been caught up in the attack. Two, Candice Hedge from Brisbane and Andrew Morrison from Darwin, are among the injured after both being stabbed.
According to the Brisbane Courier Mail, Ms Hedge was stabbed in the neck while having a drink at a bar but did not suffer life-threatening injuries.
New Zealander Oliver Dowling was stabbed alongside his French girlfriend Marie Bondeville, with both requiring surgery, said the New Zealand Herald.
According to the paper, Mr Dowling's sister wrote on Facebook: "Doctors are very happy with how he's come out the other side. A massive thank to the University of London Hospital for their tireless efforts in helping my brother out!!"
Sunday Express journalist Geoff Ho was also injured, the newspaper's editor has confirmed.
Martin Townsend said: "Geoff Ho is an absolutely first-class reporter and a fine and decent man and our thoughts are with him and his family at this time.
"We are all hoping and praying for a speedy recovery."
The attackers
They were wearing fake bomb vests. A photographer took a picture in which one man can be seen lying on the ground outside the Wheatsheaf pub with canisters strapped around his waist.
He appears to be wearing an Arsenal football shirt.
What is happening now?
Cordons around London Bridge and Borough Market have been lifted as the investigation into what happened continues, led by the Met Police's Counter Terrorism Command.
The priority for officers is to establish whether anyone else was involved in planning the attack.
Metropolitan Police Commissioner Cressida Dick says a "huge amount" of forensic material and evidence has been seized from the van used in the attack and the police raids.
Police are searching two addresses in east London – one in Barking and one in Newham. A number of people have been arrested.
Twelve people were arrested on Sunday in Barking, following a raid by police on a flat owned by one of the three attackers. A 55-year-old man was later released without charge.
Source: BBC