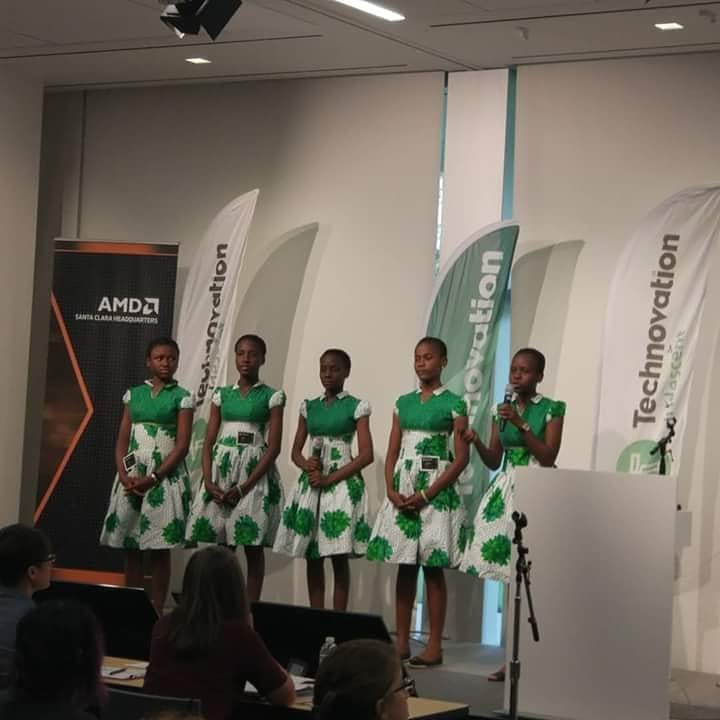 A team of Nigerian teenagers from Regina Pacies Secondary School, Onitsha, Anambra state, have been announced as winners of the junior division of Technovation Challenge at the 2018 Technovation World Pitch Summit which took place in San Jose, California.
The competition is organised by Iridescent, a nonprofit empowering underrepresented young people globally to become innovators and leaders. The summit is a tech entrepreneurship program for girls ages 10-18.
The girls, with team name "Save-A-Soul" developed an app called FD-Detector which tackles the challenges of fake pharmaceutical drugs in Nigeria.
The girls – Promise Nnalue, Jessica Osita, Nwabuaku Ossai, Adaeze Onuigbo, and Vivian Okoye – were mentored by Uchenna Onwuamaegbu-Ugwu of Edufun Technik.
Here's the girls' pitch:
Junior division winners, Team Save-A-Soul, hopes to help consumers identify and avoid the intake of fake drugs in Nigeria using its app, FD-Detector (Fake Drug Detector). According to Team Save-A-Soul, Nigeria has one of the largest markets for fake drugs. The girls plan to partner with the agency responsible for drug regulation in Nigeria, the National Agency for Food & Drug Administration and Control.

"Leveraging technology to save lives is our utmost priority, that is why we have decided to maximize this opportunity to solve the incessant rate of death caused by fake drugs," said Team Save-A-Soul.
Se more photos below:
The winners in the senior division are a team of girls from Delhi, India with name Cantavits. They developed an app called Eedo to track and dispose of electronic waste in an eco-friendly manner.
Here's their pitch:
81% of people dispose of e-waste improperly, which results in toxic fumes and polluted water. Eedo is an Android app solution that provides an end-to-end connection between e-waste producers and authorized recyclers.
Bella Naija
Photo Credit: @uchenna_golden