Migrants who cross the southern US border illegally will no longer be eligible for asylum under a new rule, the Trump administration has said.
The new measures would deny asylum to those who breach any presidential restriction on entry.
The president can stop migration in the "national interest", a statement said.
Before the mid-terms, President Trump frequently denounced a caravan of thousands of Central Americans making their way north through Mexico.
He ordered troops to the border and declared the migrants to be an "invasion". Without offering evidence, Mr Trump repeatedly suggested the caravan was politically motivated.
Acting Attorney General Matthew Whitaker and Homeland Security Secretary Kirstjen Nielsen announced the changes on Thursday.
The joint statement said presidents have the power to "suspend the entry of all aliens" and to impose "any restrictions he may deem to be appropriate on them" if they are judged to be "detrimental" to US interests under the Immigration and Nationality Act.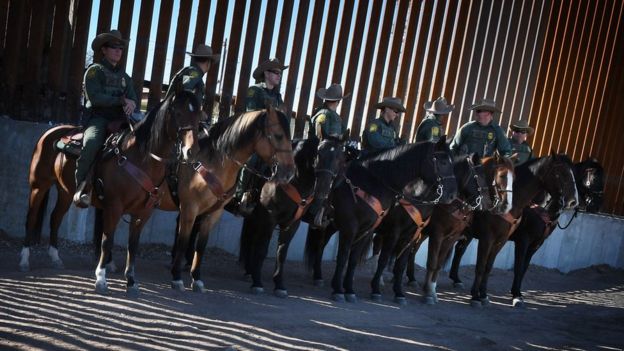 "Today, we are using the authority granted to us by Congress to bar aliens who violate a Presidential suspension of entry or other restriction from asylum eligibility," the statement said.
The regulations released on Thursday, in conjunction with an order expected to be signed by President Donald Trump, would effectively ban migrants who cross the U.S. border with Mexico illegally from qualifying for asylum.
Once the plan goes into full effect, migrants entering at the U.S. southern border would only be eligible for asylum if they report at official ports of entry, officials said.
"What we are attempting to do is trying to funnel asylum claims through the ports of entry where we are better resourced, have better capabilities and better manpower and staffing to actually handle those claims in an expeditious and efficient manner," a senior administration official told reporters in a news briefing on Thursday, on condition of anonymity.
The Trump administration has already made it more difficult for migrants to qualify for asylum in the United States. Administration officials have said existing U.S. asylum rules encourage illegal immigration and bog down legitimate claims.